LG and Whirlpool Refrigerators are high-rated refrigerators brands liked and purchased by millions of people worldwide. However, some people make slight differences between these two brands and look for the relative comparison between LG vs Whirlpool Refrigerator. Therefore, if you are also one of them and looking for the same thing, I have covered it all in this article.
LG vs Whirlpool Refrigerator
You will have this comparison by differentiating these two brands on different factors and according to the form factors. There are side-by-side, single-door, and double-door refrigerators from both companies. It means at the end of the day, you will figure out the problem you might be facing regarding choosing any refrigerator from these brands.
LG vs Whirlpool Refrigerators is two of the most popular brands on the market. Which is better? The answer will depend on your needs. LG has always been known to be one of the best brands in the industry, while Whirlpool has also had its fair share of success in recent years. This article will explore each brand's product in detail, from what they offer and how it compares to other models on the market today.
So, please make yourself comfortable, and let's start comparing these two masterpiece brands.
LG and Whirlpool-A little in-depth history:
Of course, when a brand becomes such viral and high demanded half of the world, it has already faced different life scenarios. There is a lot of struggle and hard steps that have no actual existence. However, we will also cover this here as to how these two brands have made up to this point to make you confused choosing the particular one because of their high-end features.
LG Refrigerators:
LG was founded in 1958 as a manufacturer of electronics in the Koo In-hwoi, a South Korean brand. And at that time, the company's first name was Gold Star. Considering this, LG has always manufactured high-quality appliances, including refrigerators.
Moreover, LG refrigerators are usually high quality, reliable, and energy-efficient. Plus, LG refrigerators have a patented Smart Cooling system, which maintains the ideal temperatures of the refrigerator.
You probably have used any LG appliance inside your house no matter how life goes. They are comparatively little more expensive than the Whirlpool. But these quality refrigerators don't lack anything. They are famous due to their service, durability, and quality features you get with a particular one.
Whirlpool Refrigerators:
Whirlpool Refrigerators is the leading company in the United States to manufacture and market household appliances. The company was founded in 1911 with headquarters based in Benton Harbor, Michigan. Whirlpool is a part of the United States corporation, Whirlpool Corporation, a manufacturer of home products and appliances. And it's been 100 years since this brand has been on this planet.
They are famous for providing high-quality double door, single door models of refrigerators. These refrigerators from Whirlpool are comparatively low in price than the LG brand refrigerators. However, you will miss the quality and lifetime durability.
For those, who love buying a double door or a single door refrigerator at a low price without missing the quality features, Whirlpool stands best even economically than LG.
Comparison Between LG vs Whirlpool Refrigerator:
Now, let's come to the main point of your concern and compare LG vs whirlpool refrigerators on their different factors. When you read these factors, you will have a better idea of which one you should go to. Even when you buy a refrigerator from a specific brand, these factors are much considered. So, let's take a look at them.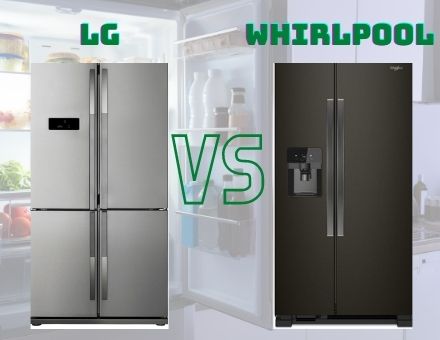 LG and Whirlpool are well known and established brands, both brands have different types of modern models. These all models are equipped with advanced features, we are going to share the comparison of some of the key features which are the most important features to look at before buying a refrigerator:
Price of Both Brands
Whirlpool top-freezer fridges have significantly higher owner satisfaction and a very low rate of utter hatred, but maybe that's because their slightly higher prices discourage people from buying the truly lowest end models so they don't drag down overall ratings. Whirlpool's reliability for this style also seems to be better than both LG or Samsung brands which could make it worth considering if you're looking at similar priced yet feature-rich options with limited reviews available online right now.
Following is a price comparison table of both brands, I have picked the best refrigerator of different types and you can check the price of both brands. Whirlpool has less price in case of most models:
Price Comparison of LG & Whirlpool

Brand
Model
Refrigerator Type
Price
Remarks
LG
LG LFXS26973D
French Door Refrigerators
LG has a high price for these types of refrigerators.
Whirlpool
Whirlpool WRF535SMHB 36-inch French Door
Side-by-Side Refrigerators
LG
LG LRSDS2706D 27 cu. ft.
Side-by-Side
LG has a high price for these types of refrigerators.
Whirlpool
Whirlpool 21.4-cu ft
Side-by-Side
Top-freezer Refrigerator
LG
LG LTCS20020W 30 in. 20 cu. ft.
Top Freezer
Whirlpool has a high price for these types of refrigerators.
Whirlpool
whirlpool 17.6-cu ft top-freezer refrigerator
Top Freezer
The Capacity of LG and Whirlpool Refrigerator :
Different models of these LG and Whirlpool has different capacity and storage options. LG refrigerators are known for their beautiful designs and high-quality construction. The LG model with the largest capacity is 29 cubic feet, which includes plenty of space to store fruits or vegetables in addition to other foods you would typically find inside your fridge! This specific type comes equipped with flower-themed doors that will make any kitchen pop out even more than before; it also features direct cooling technology so there's no need to worry about defrosting anything manually. The LG refrigerator line has been known for its cutting-edge technology that helps you keep your food fresh and cool. The model with the largest capacity allows up to 29 cubic feet of space, while other models come in at 25 or 26 cfm per square foot. This means they're perfect if storage is tight because there will be plenty left over.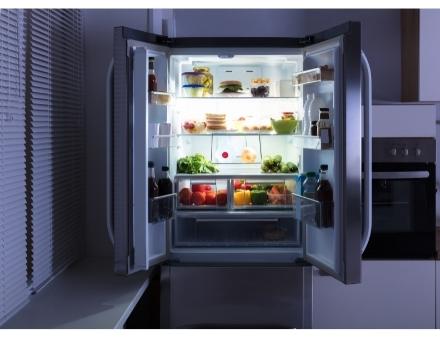 Whirlpool refrigerators are a top choice for those who want to keep their food fresh and unspoiled. The innovative design features an extra basket at the bottom that can hold dry items, such as groceries or meal prep containers; this way you won't have any trouble finding space in your kitchen when it's time to cook up dinner! With thick insulation pipes running through each shelf along with white plastic interiors typical of today's high-end models. Whirlpool refrigerators are at the top of today's line. With an extra basket to hold dry items, they can keep your food fresh for 9 hours without electricity.
Refrigeration Technology:
LG refrigerators use "Dual Cooling" technology. The first generation of the Dual Cooling technology featured evaporator and condenser coils are spaced separately. The second generation of the Dual Cooling technology uses an entirely different technology.
The condenser is placed on the freezer compartment, and the evaporator is positioned on the refrigerator compartment. It has proven to be effective, even in the largest of LG fridges.
On the other hand, Whirlpool refrigerators use "Cold Select" technology.
The condenser coils are placed at the top of the refrigerator. This configuration allows for efficient and intensive cooling. Also, the condenser coils are kept on the top of the fridge to cool the interior effectively.
Through the years, Whirlpool has improved the Cold Select technology.
However, the company's latest configuration is not as efficient as the LG Dual Cooling technology. LG's Dual Cooling technology effectively manages the temperature inside the refrigerator's fluid line. So, it's a better technology than Whirlpool's Cold Select.
Cooling and Lighting:
When it comes to LG on the Cooling and lighting efficiency, it never makes you complain about these things. You will get advanced cooling technology with LG refrigerators that make your food chilled. The food stays fresh and ready for a person like you. Also, LED lights to fit inside the LG refrigerators make you access food even if the leading light is turned off. On the other hand, Whirlpool also doesn't let you down when you need to keep your things fresh and chilled. The refrigerators from this brand are built with advanced cooling mechanisms that last for a relatively long time.
LG refrigerators are known for their high-quality and durable products. The Direct Cooling Technology provides powerful cooling without fluctuation, so you can enjoy your food fresh from the refrigerator all day long. This means that the fridge does not have any fluctuations in temperature, which makes it easy for you to find your items without having a hard time looking through all these compartments. The vegetable box in these units allows vegetables to stay crispier longer due to its design with an open space that never gets wet anywhere near any produce items.
Whirlpool refrigerators are the best because they come with Inverter technology, which makes them super silent and won't fill much noise. The stabilizer-free operation also helps to save you money on your electric bill. Whirlpool refrigerators are designed for silent operation and will not make much noise. They also come with Wifi connectivity, so you don't have to buy another separate remote control or switch on your electricity bill. The product is compatible with home inverters as well. It has an insulated refrigerant tube that makes cooling better than ever before- all at no extra cost from Whirlpool themselves.
Both the Whirlpool and LG refrigerators have their digital control panels conveniently placed on top of their external ice and water dispensers. The board allows users to control and adjust various air filters, temperature, and ice making.
Energy Efficiency:
With an impressive 4-star energy rating, LG refrigerators are some of the most efficient on today's market. They come with a 4-star energy rating and work on inverter technology, which is much more efficient than other brands. The capillary system surrounds by an air pipe filled with super cold gas that helps increase cooling rates in this product.
Whirlpool's single door refrigerators are designed to provide up 9 hours of cooling retention during a power cut, which is great for preserving your food and increasing its longevity too. There aren't really any disadvantages present in the models though – they're all pretty good!
Whirlpool Compartments & LG Compartments:
You cannot have the idea of different compartment options with both refrigerator brands until you don't compare two comparable products. But these products must also be of the same models like single door and single door both from LG as well as Whirlpool.
However, in general, LG and Whirlpool make their customers have a refrigerator with more shelves and compartments. So that they can place a large amount of food within a particular refrigerator. They are mostly much organized and provide great space for storing a single egg in a large cake box.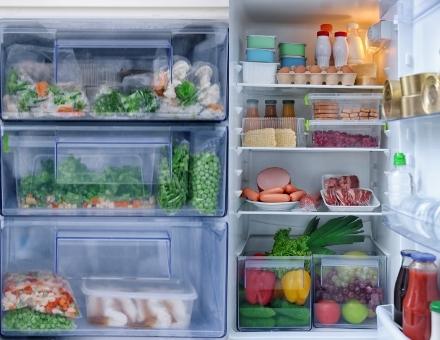 The refrigerator shelf is an important part of your fridge that needs to be well-made and durable. The best refrigerator shelves are from LG. They have a high quality and will not break easily like other brands, but they cost more too. While Whirlpool refrigerator has also pretty good but not on par with what they offer!
ComPressor used by LG and Whirlpool:
Backed by a Smart Inverter Compressor, the LG fridge is able to cool down your food and spare you from having that freezer burnt smell. It's not as good at cooling as Samsung's compressor though. Whirlpool has a reputation for making high-quality appliances, Whirlpool refrigerators come with excellent quality compressors.
Warranty:
LG guarantees its customers one year on product and five in case of any problems with the cooling system, parts or labour. Similarly, Whirlpool offers a basic one-year warranty, but if you need longer protection and prefer not to pay extra just for the peace of mind that your appliances will last as long as possible there's an extended 3 year coverage option available on all Whirpool purchases.
Look & Feel:
No hard feelings, but I would have to say that LG refrigerators are more aesthetic and stylish in look. These refrigerators have sleek and ultra-modern exteriors that make a good impression in the mind of a person like you. They are developed with some quality materials that ensure long term durability.
On the other hand, when it comes to whirlpool refrigerators, they are decent and designed in a standard style. They also offer extended durability.
Other Features you can compare between Whirlpool and LG:
Possibly, You can have a significant difference here. This difference is between these two brands' approaches to the latest technologies. In this case, you can say that the LG refrigerators are a little more advanced with the latest technology features than the Whirlpool. You can have smart Wi-Fi connectivity, operate your refrigerator even from your mobile phone. And having an LED screen built within a specific LG model provides excellent cinema time and other features like these.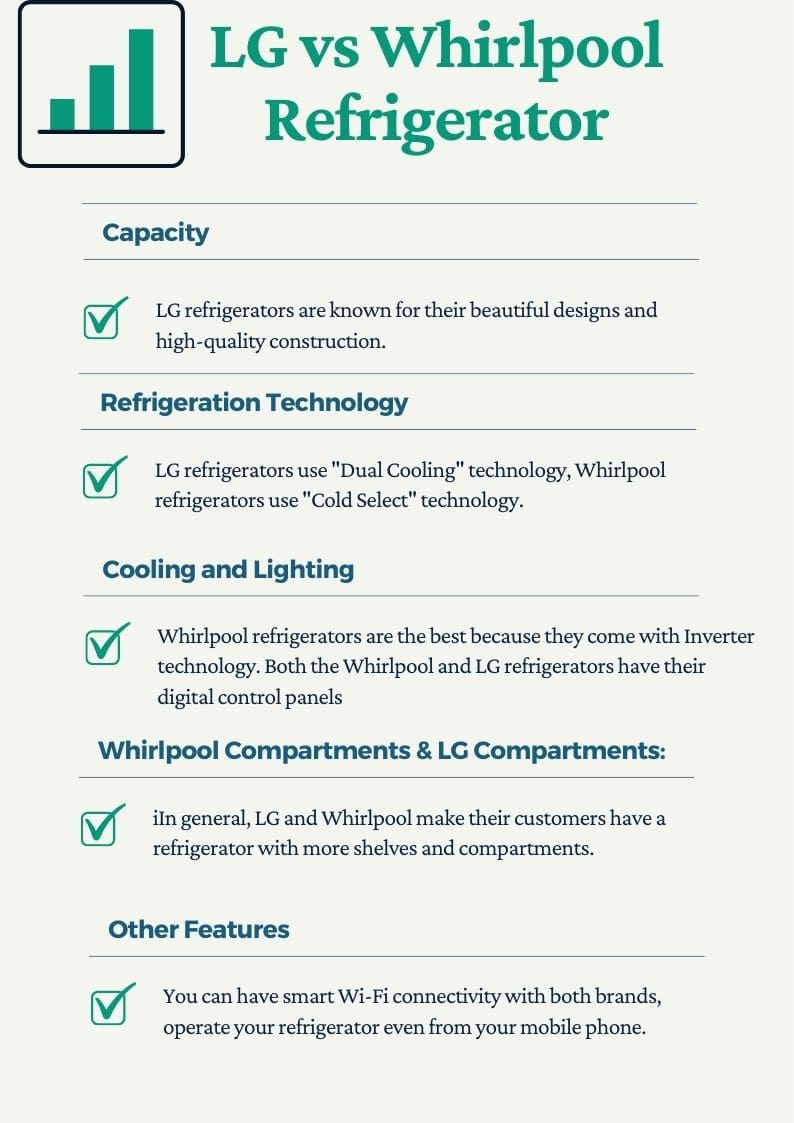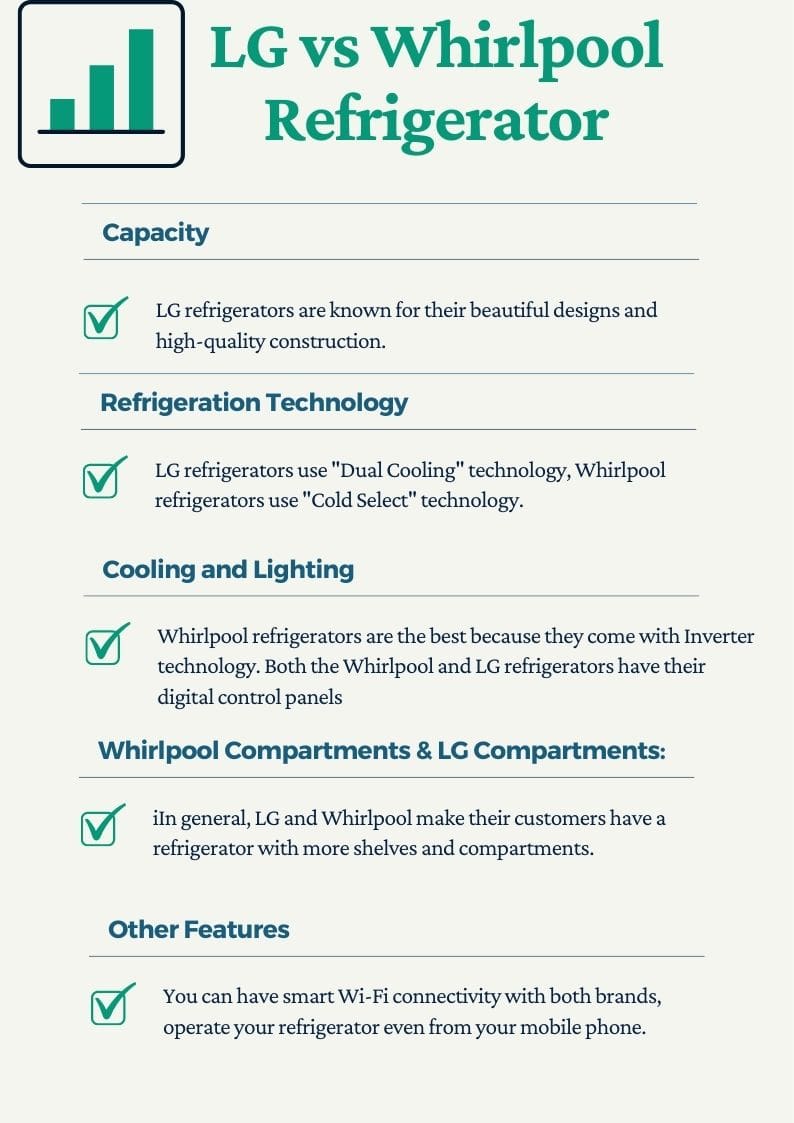 However, the whirlpool refrigerators usually lack these features as they are more straightforward and come in simple parts. But it doesn't mean that Whirlpool is not pondering on it. LG has more advanced features than the Whirlpool refrigerator like fingerprint recognition to turn on or off your fridge without using any password or pin code; it also has auto defrost. LG has a door alarm system to alert you if the door is not closed properly, it also alerts you when its time for cleaning or changing the water filter.
LG has a more stylish design, while Whirlpool offers more traditional options with real wood cabinetry. LG refrigerators have LED lighting, but Whirlpool refrigerator models offer true stainless steel finishes that last longer without showing wear or smudges. If you're looking for an energy-efficient option that also conserves water and electricity, consider our top-rated GE Profile series!
Whirlpool refrigerators have some good features that are customizable ice maker and drain pump which makes your job easier; they come with an internal water dispenser in the freezer compartment which LG doesn't have. Whirlpool refrigerators are very quiet and LG makes noise when you open the door; LG is not good for homes with small children because it has sharp edges which may harm them if they try to touch or play around it.
Type of models come for both brands:
Both LG and Whirlpool are famous for making different types of refrigerator models. These models are highly demanded and much famous. You can have the following models from both brands.
Single Door Refrigerators
Side By Side Refrigerators
Double Door Refrigerators
Triple door refrigerators
Top freezer refrigerators
Bottom freezer refrigerators
French Door Refrigerators
You will find all of these refrigerators models in both brands as these expand your wide selection.
Famous LG models You Can Buy:
LG refrigerators are not only high-quality but also has a number of refrigerator models that may be worth looking at. The following refrigerators have received generally positive customer reviews as per review analysis and seem to fit your criteria for cost-effectiveness as well as these are high efficient.
Best LG French-door models:
LG Refrigerator LFCC22426S
LG French-door LRFVC2406S
LG bottom-freezer Refrigerator Models:
We have chosen the following model as best in bottom-freezer category:
LG LRDCS2603S 26 Cu. Ft. Bottom Freezer Refrigerator
Top LG Side-by-side Refrigerator Models:
LG top-freezer models:
LG 20.2-cu ft Top-Freezer Refrigerator
Best Whirlpool Refrigerator models you can consider:
The following are some of the best Whirlpool refrigerator models that you can consider. These were selected after thorough research, and we hope they'll fit your needs:
French-door Whirlpool Refrigerator models:
Whirlpool WRF535SWHZ
Whirlpool WRF767SDHZ
Whirlpool Side-by-side models
Whirlpool Refrigerator WRS315SDHM
Whirlpool Bottom-freezer models
Whirlpool WRB329DMBW Bottom-freezer
Top-freezer Whirlpool Refrigerator
Whirlpool Top-freezer WRT318FZDW
Whirlpool Refrigerator wins this round, their features made me choose them instead of LG refrigerator even if LG had more advanced features than Whirlpool but I think we shouldn't put our child at risk just to get a better product.
My overall experience using both products was great! I will give my vote on the Whirlpool refrigerator without any doubt in mind that they're way better than LG appliances. If you want your house fully equipped with quality kitchen appliances then go for Whirl
LG vs Whirlpool French door refrigerator:
Now, let's discuss both brands with their relative models. Like in case you have a French door refrigerator, one from LG and the other from Whirlpool, how will you be able to make sure which one is best? Well, it depends on all the factors we have already described.
Moreover, you will know that there are no significant differences but might be in shape and size. Because Whirlpool might lack the advanced features, they still don't lack the larger size than a French door LG refrigerator. Because a French door LG refrigerator is a little compact. Overall, they come with the same reliability, quality, and durability.
LG vs Whirlpool Side by side refrigerator:
When you compare an LG and Whirlpool side by side refrigerator, you end up getting the same facilities in both. However, LG is still prominent. It makes more advanced side-by-side refrigerator models with plenty of the latest features.
Therefore, while considering a side-by-side refrigerator for a whole family, you can either go for the Whirlpool or the LG. But in case you have a little more money, considering LG will always be best. But still, remember that it doesn't mean Whirlpool is bad.
LG vs Whirlpool Top freezer refrigerators:
When it comes to fulfilling a large family refrigerator's desires, you can either have a side-by-side refrigerator or a Top refrigerator. Top Freezer Refrigerators tend to offer the most value for their price, offering a lot of storage space while being energy-efficient and affordable.
However, in both brands, you can go for any one of these. Because both Whirlpool vs LG stands excellent in providing the best Top freezer refrigerators.
LG vs Whirlpool Bottom freezer refrigerators:
On the other side, you can have a bottom freezer when you need a freezer for placing beverages or drinks inside your basement or during your parties. But what should you choose? A whirlpool or an LG? Well, saying this fits correctly that both brands offer high-quality bottom freezers that you can purchase.
But when comparing two products of the same form factor from both brands, things might vary slightly. However, both stand out best in quality, efficiency, and productivity.
LG vs Whirlpool Refrigerator Customers Reviews & Rating
| | | |
| --- | --- | --- |
|   | LG | Whirlpool |
| Very Satisfied | 57.9% | 40.6% |
|   | Storage Ability | |
| Good | 41.2% | 33.4% |
| Bad | 10.3% | 14.7% |
|   | Overall Capacity | |
| Good | 60.6% | 40.7% |
| Bad | 4.5% | 11.0% |
| | Noise level | |
| Good | 61.2 % | 42.3% |
| Bad | 6.2 % | 10.6% |
| | Ice maker | |
| Good | 57.6 % | 46.2% |
| Bad | 5.8 % | 6.9% |
| Table Source: | https://www.nytimes.com/wirecutter/reviews/the-best-refrigerator/ | |
Known Issues & Flaws of LG and Whirlpool
The big drawback with some LG refrigerators is that they are more likely than those from other brands to stop cooling over time. It has been a major problem for consumers in the past decade, and despite what looks like an improvement now on their current models – there still exist side-by-side units which have really poor track records when it comes down to the reliability of operation (or at least not being able cool correctly).
LG refrigerators are less likely to experience a cooling problem than other brands. The company reported that only 3% of reviews mention this issue, so hopefully, you won't run into any problems with your new fridge.
LG has pretty typical warranty coverage for the industry now, with one-year comprehensive parts and labour. However they do provide replacement compressors that last up to 10 years (as compared to other brands), but you'll have to pay out-of-pocket if there are any issues under warranty; this could be expensive because their customer service also falls short in these areas.
Most Common Issues With Whirlpool Refrigerators
Fridges should be able to maintain the proper temperature so that food remains fresh, but some people's complaints that French Door Bottom Mount refrigerators aren't working properly. This Whirlpool refrigerator contains a defect that causes frost on the evaporator and impedes airflow in the freezer causing it not cool or freeze anything as advertised
Whirlpool's refrigerators are known for their durability, but if the start relay breaks on your fridge you might think that there is something wrong. It can cause Whirlpool refrigerator owners not to call service personnel when it happens because they hope things will get better by themselves- which of course isn't true! And this leads them into a bad situation where at best all we're left with is an unreliable appliance and in the worst-case scenario could lead to someone being robbed blind over their own kitchen appliances due to lackadaisical maintenance…
The Whirlpool refrigerator's temperature control board is often down. This makes it difficult to cool your food, and will cause the compressor not to work properly if you don't fix this right away! A start capacitor can fail on these models which results in no cooling at all; they must be serviced ASAP before anything worse happens
 Final Thoughts:
Hopefully, while comparing LG vs Whirlpool, you have got your answer. You can go for any of these but remember, the only significant difference is price. The LG refrigerators are more expensive with the latest features and stylish look. On the other hand, Whirlpool is less costly without the latest features and has classy looks.
You might be wondering which brand offers more features and what the difference is. Both brands have neck-to-neck options with regards to these aspects, but they do vary in some areas like the design so you can decide based on your preferences.
Though there isn't much difference in pricing between the two brands, LG does charge a slightly higher price for some of its appliances. LG and Whirlpool both have affordable refrigerators that can be found under $2000 as well as refrigerators that cost less than $1000.
The decision between Whirlpool and LG refrigerators comes down to what you want in your new appliance. If storage capacity is important, then go with an Lg model that offers more than just fridge-keeping abilities. For people who have to make a purchase on the web, we comprehended that LG fridges are better than Whirlpool ones. They offer more energy-effective refrigerator models in contrast with their counterparts from other brands.
But both hold great importance in providing durability, reliability, and long life working whenever you need a refrigerator for your home. I hope that the articles have helped you understand these differences. But if you have any more questions, you may ask in the comment section. See you soon!
Whirlpool Vs LG – FAQs
How does Whirlpool compare to LG?
Whirlpool, the most reliable household appliance brand according to Appliance statistics was determined by researchers in America. But if you want something pretty and functional for your home then there's no better choice than LG.
Which refrigerator brand is best?
The most reliable brands of refrigerators are LG, GE and Whirlpool. These companies also manufacture the fewest problematically made products in this category!
Is LG a good brand for refrigerators?
LG's reputation for manufacturing reliable appliances has made them one of the most popular companies in this industry. As a result, their refrigerators are some models which can be easily fixed by professionals if needed due to how well-made they're designed – even when not following instructions.
Are there problems with LG refrigerators?
The innovative, modern appliances of LG refrigerators are not without their problems. Some common issues include being too cold or hot, a lack of functioning technology (such as the icemaker), leakages from water dispensers when they're turned on but nothing comes out and much more! If you notice any of these malfunctions occurring with your new fridge do NOT panic; there's always an easy solution to fix them quickly so long as it doesn't entail major repairs like installing another brand altogether which can get expensive fast!.
Is LG made by Whirlpool?
No, LG is not made for Is Whirlpool, both are different brands. The LG is a South Korean brand whereas Whirlpool is an American company.
Which brand of refrigerator lasts the longest?
Whirlpool refrigerators are known for their durability and quality. Many households love the product because it lasts longer than other brands, doesn't require as many repairs or replacements over time – making them more cost-effective in general!