Just bought a new refrigerator for your new home? Planning on decorating your stainless steel refrigerator using picture frames? Or plan on adding to-do lists or calendars to an easy to access spot like your refrigerator? We're here to help you make a better decision by providing a few of our top-rated products and the information you'll need.
How to Hang Things on Stainless Steel Refrigerator
In this article, we will discuss the different ways on "How to Hang Things on Stainless Steel Refrigerator". You can use traditional methods like magnets, hooks, clips, or even newer ones like command strips and happeez clips which are easy to apply to all kinds of surfaces. Steel has iron to which any magnet can stick. So, magnetic sheets or small magnets can be used to hang stuff on a stainless steel refrigerator but command strips can also be very handy as they're easy to apply and are gentle on the surface as well.
What types of things you can hang on a refrigerator?
There are tones of things you can add to your kitchen's aesthetics from colorful magnets to actual kitchen utensils by sticking them or hanging them to your refrigerator. The best options would be those that go with the rest of your decor, needs, or maybe even your mindset.
If you're a person who likes to plan his days out and wants to maintain certain habits, you can choose to add little notepads as to-do lists or calendars to help track your habits but if you're more of an aesthetics person you could add colored and fun shaped DIY magnets to your fridge. You can even add DIY origami art using clips. Another very smart option would be to hang spatulas and spoons etc. on the side of the fridge by adding magnetic hooks to the sides.
Use these ideas if you've got a small kitchen
Just moved into a small apartment? Don't have enough space to cover all your kitchen utensils in it? Don't worry! We've got you all covered and can help you manage your drawer storage by providing you an alternative for storing and organizing kitchen utensils like knives, cutting boards, spatulas, and spoons, etc. These products recommended below can help you hang kitchen utensils on your fridge instead of placing them in a drawer. You can use a magnetic sheet and then add small hooks to it for hanging any king of hangable items to the fridge.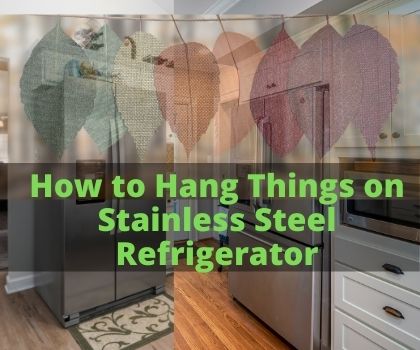 Recommended tools for hanging on a refrigerator?
As mentioned earlier, both metallic sheets or command strips can be used so, here we bring you a few products you can use from both the categories;
1.    Three By Three Seattle Mini Magnetic Strip Bulletin Board, Sky Blue (31211)
These are bullet-in magnetic strips that you can choose to hang vertically or horizontally according to your décor ideas. The small strip can hold small stuff like small pictures and keys. The strip comes with six small yet strong magnets to hold your non-framed photos in place.
2.    Magnet Sheets with Adhesive 8″ x 10″, Magicfly 15 Pack Flexible Magnetic Sheets
These are magnetic sheets that are flexible and strongly adhesive to fit corners if you like. The sheet just like the strip can be used to hang small items that have small magnets attached to them or that are metallic like keys or ceramic décor items with attached magnets. The sheets are a lot wider than the strips allowing you to add a lot more stuff there.
3.    Command Large Picture Hanging Strips
These command strips come in a pack of 14 pairs. These strips are user-friendly as they allow for equipment-free and damage-free hanging of pictures. The design is also convenient for redecoration as it comes off without leaning and marks underneath.[1]
FAQs
How to stick something on stainless steel?
You can choose to use either magnetic or even non-magnetic strips like command strips as the command strips can pretty much be hanged on any surface. The strong adhesive allows for it to stick to any material. Metal strips are also convenient for stainless steel refrigerators as the iron within the steel allows the magnet to attach easily to the refrigerator surface[2]
Do magnets stick on stainless steel?
Yes, magnets can easily stick to most stainless steel refrigerators. Steel is an alloy that has iron metal mixed within it. Though stainless steel can have many different metal compositions, iron is a must which allows all kinds of magnets to attach easily to it.
However, there are some stainless steel refrigerators out there that cannot hold on to any magnets. This is possibly going to happen when the steel alloy used for your refrigerator has a high nickel composition which makes it non-magnetic though it is still beneficial for extra strength
Are all refrigerators magnetic?
Unfortunately, no, all refrigerators aren't magnetic. Only the ones that have a higher iron composition in the steel alloy are magnetic. Though it isn't that big of a loss as you can still decorate it using non-magnetic décor as suggested below.
How do you hang things on a non-magnetic refrigerator?
A variety of items have been introduced to not only fit stainless steel fridges but also non-magnetic ones. You can make use of hooks and clips with small suction cups to hang keys, calendars, and even photo frames. Happeez refrigerator clips are another cute option for hanging smaller items like frameless photos and small notepads. You can also choose to use sticky command strips
How do you hang pictures on a non-magnetic refrigerator?
Gone are the days where you could only hang things with magnets on them to a refrigerator. The world of aesthetics and decor has progressed far beyond magnets and steel. A variety of non-magnetic, strongly sticky, and adhesive options are there for non-magnet-based photo frames. You can use a command strip or happeez clips for non-magnetic sticks to the refrigerator.
[1] Prins, Steven. "On the Closure of Tears Using 3M Command Adhesive Strips." Selected Proceedings of Advances in Conservation (2017).
[2] Dyatmika, Haris S., et al. "Development of the thermoacoustic refrigerator system using a stack made of some stainless steel mesh and a hot heat exchanger." Indonesian Journal of Physics 26.1 (2015): 5-8.