Frigidaire vs Whirlpool Refrigerator
 Are you stuck either choosing Frigidaire vs. whirlpool? Yes, both are super amazing and highly renowned brands. Do not worry. Our experts have roamed around the market to give you a comprehensive picture of what to choose. Read on to learn more!
So, Gen Z generation, you are very smart. Thereby, a recommendation to buy something or not is just some clicks away. Comparison between Frigidaire and whirlpool is in itself a challenging task.
Frigidaire or whirlpool is both highly reliable and the best in their field. So competition is tough. Whether it is storage, efficiency, performance, capacity, or working life, all are good in some way. Therefore, we will measure things on logical parameters: storage, capacity, size of the door, and others. Measuring things on factual parameters will make things easier for you to learn more about your demand details.
Suppose if you got all the features you want in the refrigerator, but your budget is not allowing you to get what you want. Henceforth budget and market revenue are also contributing factors to make your purchase worthy. Sometimes, you will compromise on some of your preferred features to adjust your purchase because getting the best thing while pinching a hole into your pocket is not a wise decision.
Many brands are roaming around the market, but Frigidaire and whirlpool both are famous brands. Obviously, because of their performance and reliability. After having much research by our experts of the market. We have landed on the conclusion that you need to think about your preferences to get the optimal option.
Henceforth, without wasting any time, let us dive into the pool of the following comparison analysis to be clear about your future refrigerator.
Comparison table between Frigidaire vs. whirlpool:
Attributes
Frigidaire
whirlpool

Styles

Bottom Freezer style refrigerator

Top Freezer style refrigerator

French Door style refrigerator

Side-by-Side style refrigerator

Bottom Freezer style refrigerator

Top Freezer style refrigerator

French Door style refrigerator

Side-by-Side style refrigerator

capacity

11.6  to 27.6   liters
11.6 to 28 liters

Modern features

-Space Wise Organization refrigerator

-Open Access Door

-Twin Tech Cooling

-Custom-Flex Temp Drawer

-Even Temp Technology

-Crisp Seal Crispers

-Dual Cooling feature

-Flex-Side Bins

-Infinity Slide Shelf

-In-Door-Ice Storage compartment

-FRESHFLOW Technology

-Every Drop Filtration

-Total Coverage Cooling feature

Star rating

4
4
Smart refrigerators
no
no

History of Whirlpool Company
Whirl Pool Company was founded in 1911, and the founder is Lou Upton (life insurance salesman). From the start, this company has been very impressive in making electrical appliances that are refrigerators, freezers, ovens, air conditioners, laundry appliances, and other electrical household appliances. This company has known for the best appliances in more than 170 countries worldwide. Whirlpool supplies appliances to roebuck, sears, and co, which takes part in about 1/5th of whirlpools net sales. Whirlpool Corporation has 47 prime locations for making their products, from which some of them are the United States, Germany, France, China, Brazil, Sweden, South Africa, Slovakia, Canada, and India.
Today it's been a very long period of time of 110years with Whirlpool Company improving our lifestyle with greater reliability.
Whirlpool, from the beginning, was very helpful. Even during the war, the company pivoted to support the war and Upton Volunteers to help United States troops and its allies. They helped the company double down on the product selling online through sears and another line through the name of independently whirlpool. Whirlpool Company addresses partnership in post-war income growth
By 1980, it was recorded that more than 29,000 people bought one or more whirlpool appliances because whirlpool had become one of the most trustworthy appliance companies in the world.
Whirlpool Company, bit by bit, make their appliance more efficient and modernized.
Whirlpool Corporation set a global greenhouse gas reduction target.
By 2020, when the whole world transformed physical work-life into an online work platform, whirlpool supported their employees and customers worldwide during the pandemic. Whirlpool introduced new health and safety protocol for employees, provided financial support to their communities, and donated medical appliances to the hospitals for the sake of humanity. Whirlpool Corporation is still pursuing to make life easier at home by making over 250 climate-resilient and energy-efficient homes for humanity and commitment to achieve net-zero emissions target by 2030. Whirlpool Corporation also works in space with NASA to study zero-gravity by their own appliances.
History of Frigidaire Company
Frigidaire Appliance Company is an American brand of household electrical appliances. Frigidaire was founded in 1916 in Fort Wayne, Indiana, invented by Nathaniel b wales and Alfred mellows.
Frigidaire refrigerators are one of the well-known refrigerators. American people called every refrigerator a Frigidaire regardless of its company. Many European countries used Frigidaire as a synonym of refrigerator today.
From the early to late 90s, the Frigidaire Company was owned by motors, and it is very competitive as general washing machines and refrigerators.
Frigidaire Company manufactures greater varieties of refrigerators and freezers. Their top freezer models, French style, and side-side door style refrigerators are very well rated across the world—they in 2016, partnership with Ryder and Embark, which deliver their appliances from California to Texas.
Market statistics of Frigidaire vs. whirlpool
Both refrigerators are built to keep food cool and frozen while keeping efficiency in mind. But what is the deal here?  That is the question. Let us talk about Frigidaire first. It holds the market share. Frigidaire holds a strong market position, which is about 16% in core appliances in 2018. Also, the brand has over 100-year heritage, and the target consumers with limited money and time all affordable value solutions. Also, the refrigerator range starts at under $600.
On the other hand, Whirlpool is the most recognized brand worldwide. Recently, it occupied a market share of over 25%. It is more trustworthy than Frigidaire as it has more followers than a whirlpool. However, it cost more than Frigidaire.
In a nutshell, Whirlpool gets more marks than Frigidaire as it is widely known in the industry. As per the reliability, both brands are good to go. However, as per the market share, Whirlpool got an edge over Frigidaire. Their cost reduction initiatives and continue returning shares of cash to shareholders.
Exclusive features of both Frigidaire and Whirlpool Refrigerators
Frigidaire vs. whirlpool is a classic top-shelved freezer with a fridge in the basement. It is a good and friendly budget for you, but this is not much functional compared to the whirlpool and Frigidaire refrigerators. Because both refrigerators company have many more options and modernized programs in them. These brands have many types of refrigerators, which are as below,
French door style refrigerator
Side-by-side style refrigerator
Bottom freezer refrigerator
Top freezer refrigerator
All-Freezer/Refrigerator
Four-Door French door
Beverage Center
And you will find the best refrigerators options here for your convenience so far.
Comparison between both Frigidaire vs. whirlpool
Let us talk about the comparison of newly generated fridges that are Frigidaire and whirlpool refrigerators. People have been very confused about which refrigerator is preferable.
Buy a refrigerator according to the size of the desired place.
Frigidaire refrigerators are manufactured to store fresh and frozen foods. The company is very reasonable with modern technology. The Frigidaire brand also accesses several exclusive features in every appliance.
Frigidaire refrigerator is an affordable option and widely recognized and recommended brand.
Dimension of Whirlpool Refrigerators
Whirlpool refrigerators are desirable in colours and sizes; the largest is 70 inches (177.8 centimetres) long and 36 inches (91.44 centimetres) wide. It is a lot more efficient than a simple one. Whirlpool also accesses some counter-depth refrigerator programs that will access more storage than the simple refrigerator.
Cooling
Whirlpool refrigerator has amazing features like it has dual cooling and direct cooling with the total coverage that makes food preservation for the greater time.
Fresh flow technology
It also has fresh-flow technology with flexible side bins. Their dispenser works perfectly with one and every drop filtration. It has an Ice storage compartment and infinity slide shelf.
Capacity
The net capacity of whirlpool refrigerators is 11.6-28 and is highly rated and recommended.
Manufacturer's Suggested Retail Price (MSRP)
It is very reasonable with the range of $557 to $5,000 (approx.)
Features of Frigidaire; crisp seal crispers
Frigidaire also has impressive features like crisp seal crispers. And enough space for your kitchen needs the space is wide from inside with the modern organization.
Twin tech cooling technology
It has twin tech cooling technology and variable temperature technology, which helps to provide the ideal environment for the food to stay fresh for a longer period. The lighting inside is illuminated from every corner with the open access door.
Capacity
The capacity of the Frigidaire refrigerator is 11.6 to 28 liters. It is also highly rated and recommended.
Manufacturer's Suggested Retail Price (MSRP)
This refrigerator is also very reasonable with the range of $800 to $4,000 (approx.)
 Energy efficiency
These appliances use electricity of about 111.8-kilowatt per hour, which costs 15 dollars approximately.
Different styles of refrigerators Frigidaire vs. whirlpool
When you start to make up your mind to buy the refrigerator, we will suggest you measure the area where you are going to put your refrigerator for easier go on the refrigerator.measuring.guides for further brief.
Here in the whirlpool and Frigidaire, you will find a variety of fridges with different ranges, sizes, and capacities.
Bottom freezer style refrigerator
The bottom freezer style is innovatively eye-catching and stylish too. It also makes your life a little bit easier because frozen items are comparatively heavier than no frozen items, so it is advantageous in this manner. It has one of the basic advantages of putting your daily or more useful items at your eye level.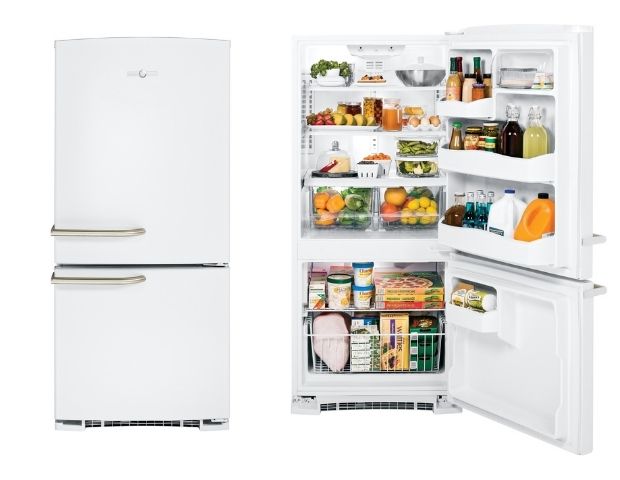 Top freezer style refrigerator
The top freezer is the classic setup that keeps frozen items on the Side of the refrigerator. The top freezer style has more space compared to other refrigerators. This refrigerator is more efficient and energetic. This type of fridge uses 20 percent less power than bottom freezer styles. Customers usually love the top-style refrigerator because of the direct cooling.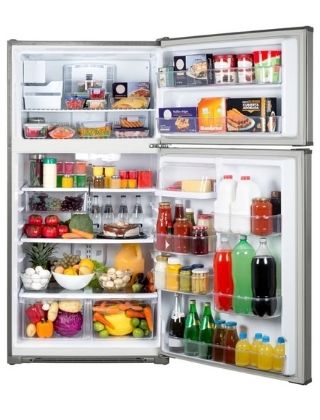 French door style refrigerator
There are advantages and disadvantages of French doors. People must have to consider them before buying them. It is important to look at every aspect before installing this refrigerator in your kitchen. The French door-style refrigerator is one of the coolest styles. This style gives your kitchen an amazing look. But the Side-by-side door gives little trafficking, and it is a bit slimmer than other types. However, this style offers easy access to your fresh and frozen items simultaneously. Whirlpool gives you the coolest thing, which is a dispenser in it, yes! The French door style does have a water dispenser, which makes it way more likely than others. This refrigerator takes a little bit more space than other refrigerators.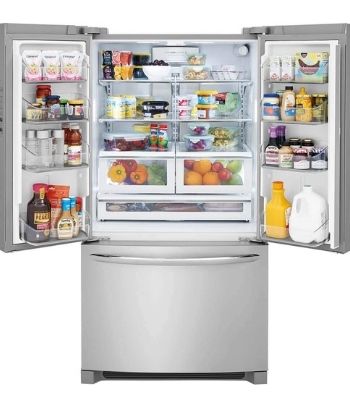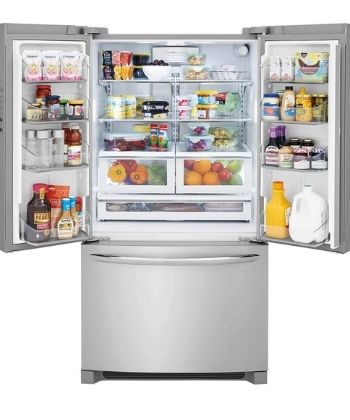 Side by side door style refrigerator
This refrigerator is also very innovative, both functionally and physically. This side-by-side door style with a little dispenser makes it more interesting. It helps you to differentiate things easily as it gives you the ability to place your goods where you need to. This Side-by-side door-style refrigerator gives comfort and style to your kitchen. It has two-door separated compartments, one with a freezer (where you put frozen items) and one with a fridge (where you put your fresh food, fruits, and vegetables). A side-by-side refrigerator is best for large families looking for a refrigerator.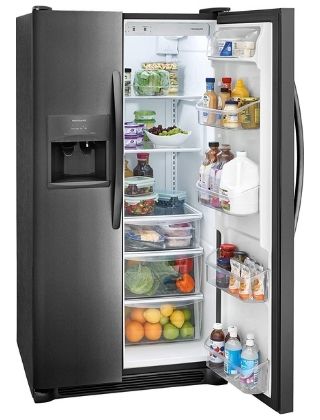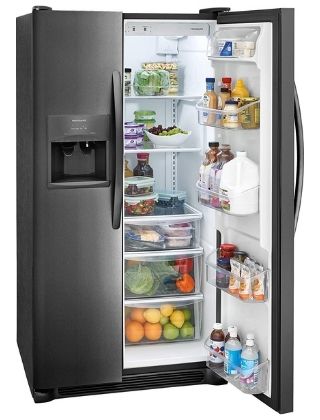 Whirlpool French door and side-by-side door refrigerator modifications
French doors style and side-by-side doors have many special modifications like crisper bins. Also, they have nice lighting inside on both sides of the fridge and a big ice capacitor or ice maker on the freezer side of the refrigerator. The best thing about the Side-by-side door and French door style are that you can put your most usual things in reach without opening the whole door, which helps keep a colder environment inside, which is fantastic. They also have many door pockets to put things like sauces, juices, yogurts, and eggs. Yet you have tons of room left for a lot of food keeping in
Which refrigerator is better? French door vs. Side-by-side refrigerator.
Before picking up what refrigerator is better, you first consider all of these factors: the size, your budget, and family members.
If you have a smaller place and you are wondering which refrigerator is right for you, then maybe you have to go for the Side-by-side door style refrigerator. Side-by-Side is famous for having a thinner door than the French door-style refrigerator. Although it has a little tighter space, it might work out for you. The second option was the budget, so yes! The Side-by-side door style refrigerator is a little bit reasonably cheaper than a French door style refrigerator.
French door style refrigerators are worldwide demanding and famous. People usually consider it because it has many other options, making it before other simple refrigerators and a bit expensive to simple ones.
Why do many people consider French door style over Side by Side?
It is because of their lifestyle with their food.
If you are the kind of person who does a lot of shopping for fresh food for a month altogether, then no doubt a French doors style refrigerator is the best option for you. And one more thing it has open space than other simple fridges and Side-by-side door style refrigerators of course.
Customer guide for choosing the right refrigerator
Suppose you're looking to get a new refrigerator for your smaller or larger family having their growing needs. You want a modern refrigerator with modern features, and you are searching for the best guide that will suit your lifestyle and need. In that case, you came in here in the right place.
We recommend you look upon the best product, a stainless steel French door refrigerator of both whirlpool and Frigidaire because it is a lot more efficient in every possible way than a normal refrigerator.
It is also powered by the Ace-chill temperature management program, which makes food fresh by sensing to create the desired environment. It provides more than enough storage for all of your needs. The inner has gallon-sized door bins and door pockets. It also has a drawer on the outside of the refrigerator. To keep the most used items within easy reach without constantly opening the whole door. You can adjust the temperature by touch system on the outside anytime you want. It also has glass shelves which prevent water leakages. It also features the external water dispenser, which provides filtered water and ice. You can do it by selecting the option of a cup, glass, or gallon after the dispenser shuts down automatically. It maintains hygiene to the food inside wholly and repels every contaminant. The led interior spotlight casts a natural light by Side and top zones, illuminating each corner and giving better visibility. The most fantastic program of this whirlpool refrigerator is the humidity-controlled crispers which provide an ideal environment for your fresh food, fruits, and vegetables. It has a two-tier freezer design for the ideal organization of your frozen stuff. It also has a one-year limited warranty
-How can I make my refrigerator work more efficient?
Try to place your refrigerator far away from direct sunlight, which can heat your refrigerator and causes it to work more than its need.
Replace your refrigerator with the new model with high stars rating.
 -single door refrigerator 
The single-door refrigerator is designed with a single access door. Customer usually prefers it because it is money-saving and space savings. It is not very modern in features.
-Sizes of single door refrigerator from every dimension:
The size is 19 cu ft. for a single door and 71.375 (181.3 centimetres) in height. Its width is 32 (81.3 centimetres), and its depth of 28.25 (71 centimetres).
Single door refrigerator usually has a range of 30 to 36 / 76.2 to 91 centimetres when open.
-Warranty
Single door refrigerators have the longest life expectancy of 19 years
To 24 years
 -How cold should a refrigerator be?
The ideal environment for a refrigerator is between 1.67 to 3.33 degrees Celsius (35 to 36 degrees.
Fahrenheit)
-double door refrigerators 
If you are willing to buy a refrigerator, the other main thing you have to consider is that their power capability must be A-one. The whirlpool refrigerator star rating is good because it saves energy and uses less electrical power. Unlike the normal fridges, their compressor should be an inverter compressor, not general. Because normal fridges have a general compressor which is cheaper, and its durability is far less than an inverter compressor. And their capacity must be greater in litres. Whirlpool provides you with the refrigerator with greater durability because they use IntelliSense inverter compressors with ten years warranty on the compressor and one year warranty on the refrigerator.
Single door refrigerators are compact and provide a direct cooling system. Whirlpool refrigerator has a 200-litre capacity, unlike the normal refrigerators, which have approx. 180 litres capacity.
Reviews on whirlpool refrigerator
Customer reviews are the honest reviews so far what they said about the whirlpool refrigerator is,
They love whirlpool products, especially side-side door style refrigerator, because it is very versatile and serve the needs of a big busy family. It has only a convenient indoor water dispenser which is not only beneficial but attractive by looks.
The side-by-side style has plenty of space inside.
The bottom freezer-type refrigerator is also very great. The water dispenser is inside vs. the front Side of the refrigerator.
But the only downfall is that there is no alarm alert you if the doors of the fridge or freezers are not fully closed.
Reviews on Frigidaire refrigerator
The customer reviews on Frigidaire refrigerator is that they love the refrigerator and other appliances of Frigidaire and they all run perfectly. They do not find any issues with them. The staff of the brand is well trained which tells that the product is also well made.
Other customers stated that they have been using the refrigerator of Frigidaire for the past 25 years and are completely satisfied with the product.
Customers also find this very reasonable and efficient, and temperature changes accordingly and stay their food fresh for a more reasonable time. These refrigerators give an innovative look to your kitchen. Customers find the water clean coming out from the dispenser. To summarize, they love the Frigidaire products a lot.
Known Issues of Frigidaire Refrigerator
Frigidaire refrigerator is a very well-known brand. Sometimes even the 100% efficient appliances can take an uncharacteristic turn. Let's discuss some of the faults
Sometimes, this refrigerator stops cooling, which disgusts the customers, and it might also become warm if the power is out but can cool back once it regains its power. It is due to the problem with the compressor, fan, and condenser, which definitely require repairing by a professional mechanic
Another complaint is that the ice and the water dispenser stopped working and producing water slowly or not at all due to the major inconvenience and valve inlet problems, which is main supply water towards the dispenser and seek repairing.
Customers have another complaint about the frost buildup in the freezer. A freezer should be frost-free, and if it is not, then there is something that is not working out correctly, like blockage of the drain, which is also the mechanic's work.
The known issues of Whirlpool Refrigerator
Whirlpool is a very trustworthy and efficient brand, but it has some flaws too.
According to the news, whirlpool refrigerator problems led to damage to homes, although whirlpool sent their repairmen to fix the issues.
Some of the issues are observed, such as water leakage from the refrigerator and dispenser blockage. But this issue can be mended or repaired by an expert technician.
FAQS
-Does the Same Company make whirlpool and Frigidaire?
Frigidaire Company owned by Electrolux Company currently, which has been in Sweden since 1990. On the other hand, Whirlpool Corporation is one of the world's largest manufacturers of great appliances. Whirlpool Corporation itself owns companies like Jenn-air, Maytag, Amana, Roper, and kitchen aid brands.
-Is Frigidaire a reliable refrigerator?
Frigidaire appliances are highly recommended and trustworthy that is why many customers prefer their appliances. Frigidaire top freezers refrigerator is rated as best appliances so far. And yes, Frigidaire is one of the most reliable brands.
-What brand of refrigerator do repairmen recommend?
The locals' technicians or appliances repairers probably give the most honest yet true reviews.
Among many of them says whirlpool is the most recommended brand because whirlpool refrigerators tend to get the least repairing services out of all the top brands. Rankers put whirlpool refrigerators at the top of the favorite refrigerator lists.
-What is the most reliable type of refrigerator?
The most reliable type of refrigerator is the bottom freezer-style refrigerator because they are reasonably cheaper than the French door-style refrigerator and other modern and stylish refrigerators.
The top freezer style refrigerator is less expensive than the bottom freezer refrigerator because when the freezer is at the bottom, there is no need to bend to reach the lower compartment. So, the bottom freezer-style refrigerator is recommended for reasonable budgets.
French door style refrigerator and side-by-side refrigerator is also very stylish and efficient in working with the great life expectancy.
Conclusion The best guide for a whirlpool refrigerator
We are concluding here by summarizing the best guide to buying the refrigerator. We have told you the best quality of the Frigidaire and whirlpool refrigerators. And also its amazing type's whirlpool is the most popular brand nowadays. You can buy it in any color. You can buy a single-door refrigerator or double-door refrigerator or modern style refrigerators like French door style or side-to-side doors refrigerator. We have quoted everything thoroughly in this blog and compared the whirlpool and the normal refrigerator.
One of the best-reviewed whirlpool refrigerators is as below;
Side-by-side 28 cu. ft. refrigerator, full depth
Work very well for greater space, especially in the freezer. This refrigerator has the top marks for its lighting and innovative features like an ice maker is into the door and easily accessible. People like this refrigerator due to its extra lightening feature
One of the disadvantages is the noise from the ice maker.
Top freezer 14.3 cu. ft. refrigerator
Customers are satisfied with this and use it as a second fridge. It is ideal for smaller spaces. It is very easy to clean and the best pick for those who want to bargain
Its disadvantage is that some people find it too small for their needs and with some mechanical issue within two years.
Bottom freezer 22.1 cut refrigerator
It is a solid and inexpensive refrigerator and is very best for smaller spaces, but some people find this a little bit noisy. It is very energy efficient and looks great. Buyers like that also because it is both easily operable and easily cleanable.
Cons are not very much. It is like the magnetic seal can sometimes make it difficult to open the door.
French door 25cu.ft refrigerator
A popular choice is looking for the amazing featured refrigerator at a very reasonable cost. Customers love the quality and the quietness of this model.
People sometimes have an issue with the lighting.
Nothing is hundred percent efficient but whirlpool refrigerators are one of the most reliable brands and among the trustworthy brands.